Great Gift Idea - Cube Mugs
Posted On: 2011-07-11 07:17:56 ; Read: 6471 time(s)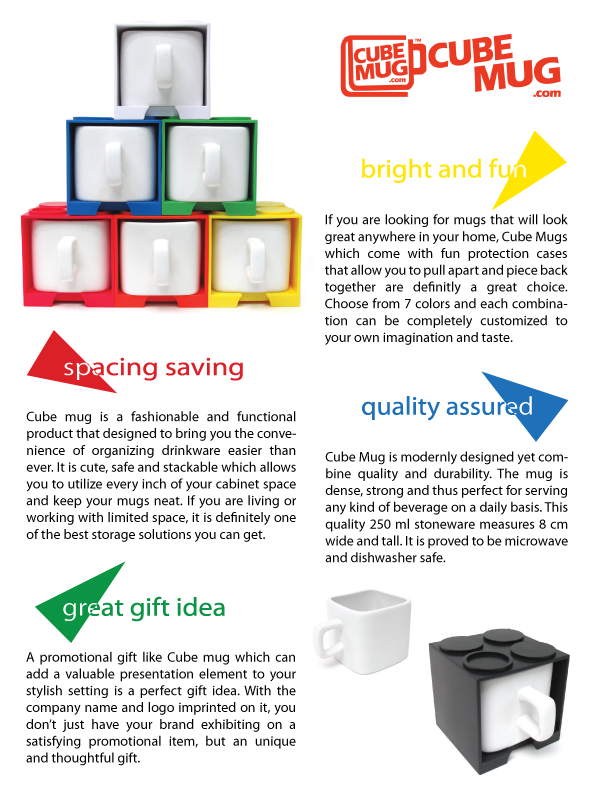 Space Saving
Cube mug is a fashionable and functional product that designed to bring you the convenience of organizing drinkware easier than ever. It is cute, safe and stackable which allows you to utilize every inch of your cabinet space and keep your mugs neat. If you are living or working with limited space, it is definitely one of the best storage solutions you can get.

Bright and Fun
If you are looking for mugs that will look great anywhere in your home, Cube Mugs which come with fun protection cases that allow you to pull apart and piece back together are definitely a great choice. Choose from 7 colors and each combination can be completely customized to your own imagination and taste.

Great Gift Idea
A promotional gift like Cube mug which can add a valuable presentation element to your stylish setting is a perfect gift idea. With the company name and logo imprinted on it, you don't just have your brand exhibiting on a satisfying promotional item, but an unique and thoughtful gift.

Quality Assured
Cube Mug is modernly designed yet combine quality and durability. The mug is dense, strong and thus perfect for serving any kind of beverage on a daily basis. This quality 250 ml stoneware measures 8 cm wide and tall. It is proved to be microwave and dishwasher safe.
No Comments Found!