Posted On: 2011-06-27 16:58:56 ; Read: 6663 time(s)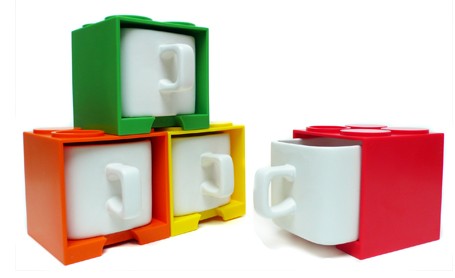 Lego is one of the most long-beloved toys in the world. If you happen to be a big fan of these interlocking plastic blocks and are looking for mugs for your stylish home, then maybe Cube Mugs are just what you need. Cube Mug is one of the most creative products inspired by the famous Lego bricks. The fun thing is that you can always pull the mug cases apart and piece them back together like playing Lego and they will look great anywhere in your home. Each combination can be completely customized to your own imagination and taste.
Related Article
Posted On: 2011-06-20 02:50:04 ; Read: 4226 time(s)

Who doesn't want a spacious home? Some people even have more stuffs than they have space to store them. Cube mug is designed to meet demands of this kind of people who concern about space saving around their home and office. With the Lego inspired design, Cube mug is cute, safe and stackable. Just stack the mugs up like you are playing Lego and you can keep your mugs really neat. Buy a four-piece or six-piece set and you will save money and find yourself utilizing every inch of your cabinet space. Cube mug is definitely a great choice for smaller...
No Comments Found!